Community Profile

Harry Potter Golden Age
Home of the Salt and Pepper Fest
Free Account
Created on 2017-05-02 22:50:52 (#3180051), last updated 2017-06-06 (6 weeks ago)
2,194 comments received
205 Journal Entries, 87 Tags, 0 Memories, 1 Icon

About
| | |
| --- | --- |
| Name: | Home of the Salt and Pepper Fest |
| Location: | (states/regions/territories) |
| | |
| Membership: | Open |
| Posting Access: | All Members |
| | |

Mini Bio
Welcome to

hp_goldenage
! We are a community that celebrates Harry Potter characters above the age of 50.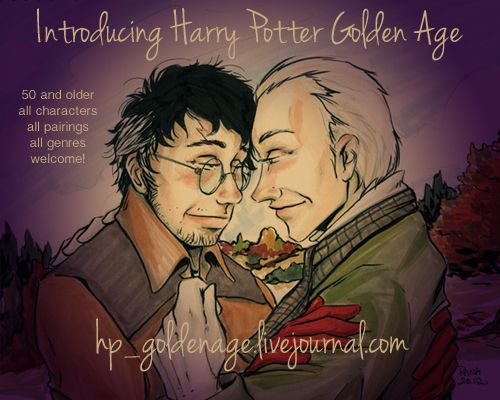 If you like a little silver around the temples, a softness around the belly, the wisdom (and sometimes stubborness!) that comes with experience and age, and the wrinkles too, this is the place for you!
Any characters/pairings that satisfy the age requirement are permitted. Whether they appeared 50+ in canon or not, as long as they meet the age requirements in your fanworks, they are welcome here! Sirius Black at 100, Hermione Granger at 75 or Albus Dumbledore at 50—just to name a few!
We welcome multiple pairings, moresomes, het, slash, femslash, or gen. Crossovers, premature aging, AU/AR? Bring it on! We welcome cross-generational relationships as well. We love cross-gen! But please note the younger party must satisfy the age requirement as well. For example, with the pairing of Minerva McGonagall/Severus Snape, Severus must be at least 50. If your fanwork focuses on Sirius/Harry or Charlie/Draco or Poppy/Hermione the same rules apply: both characters must be 50+.
Rules and Guidelines:
1. You have to be 18 years or older to join this community.
2. Use the LJ-cut tag for pictures, any fanfiction that is longer than 100 words and long posts.
3. Flaming is not allowed.
4. Crossposting is permitted but please do not link to locked entries.
5. Please use the following form when posting art including icons:
Please use the following form when posting fic:
Questions, comments, or suggestions may be sent to the mod email account: hpgoldenage@gmail.com
Moderated by

torino10154
and

sdk
COMMUNITY ACTIVITIES AND EVENTS
Bathilda Bagshot's Bingo -
FAQs/Rules - Sign-ups Always open!
Salt and Pepper Fest 2015 - Posting took place in March 2015.
2015 Master List
.
Salt and Pepper Fest 2016 - Posting took place in March 2016.
2016 Master List
Salt and Pepper Fest 2017 - Posting took place in March 2017.
2017 Master List

Connect
Administrators

Members (7):

Subscribers (7):

Linking
To link to this user, copy this code:
On Dreamwidth:
Elsewhere: